CounterPoint is a non-for-profit transportation planning and measurement tool designed in 2013, to make traffic counting global, fun, easy and inclusive for all ages and disciplines. With more than 2200 count locations, and 2300 users in more than 75 countries, CounterPoint lets anyone with a smartphone spend a little time observing and recording the flow of traffic. After as little as a few minutes, you can get a valuable modal split reading that stays valid forever and remains comparable to sites around the globe now and into the future. The longer one spends in CounterPoint, the more useful the data is for everyone.
CounterPoint runs on crowdsourcing and citizen science. Data validity is transparent, simple and comparable with automatic counters. Anyone can download a spreadsheet with minute-by-minute record of the counts done at any location. An engineer or planner can verify any of the data easily by simply or doing a count themselves at a similar time – further adding to the history of counts at a given location. A politician can do the same. That's how CounterPoint works – data collection that is open to the community that starts (and often ends) conversations about how our transportation systems are (and should be) working.
Importantly, CounterPoint's definition of "traffic" includes everyone. The app's simple User Interface comes with intuitive buttons for strollers, children's bikes, cargo bikes, wheelchairs, cars and transit. CounterPoint therefore paints a unique, ever evolving, image of how we move that is extremely useful for transportation agencies, planners, engineers, bicycle advocates, and urbanists of all ages around the world. Most of all, CounterPoint can help you track progress on sustainable transportation systems in real time, and helps start meaningful conversations across boundaries.

CounterPoint helps you count the traffic in your area.
This helps us build better routes for everyone.
First, you'll need to join a counterpoint on the map or make a new one in your area.
Here's what counter-points look like on the map.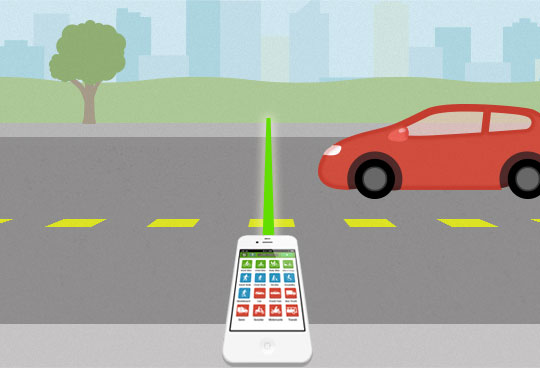 At your counterpoint, make an imaginary line across the street.

When traffic passes through your imaginary line, count it by tapping the corresponding button.
When you're done counting, choose a few environment conditions, and submit your count and that's it.
Learn More About our Count Types